Serving West Chester, OH area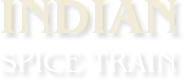 7165 Liberty Center Drive
West Chester, OH 45069

Contact Us for Indian Food You'll Love
If you're looking for quality Indian food, you've come to the right place. Whether you're new to Indian cuisine or you're an experienced foodie, don't hesitate to give us a try.
Address:
Indian Spice Train
7165 Liberty Center Drive
West Chester, OH 45069
Phone: 513-777-7800
Fax: 513-779-7801
E-mail address: [email protected]
Call us now to learn more about our business hours.
There's something on our flavorful menu for everyone.