Serving West Chester, OH area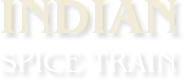 7165 Liberty Center Drive
West Chester, OH 45069

If you're in the mood for some great Indian food and ambience, you cannot go wrong with Indian Spice Train of West Chester, OH. Our friendly servers will take care of all your needs. Expect nothing less than amazing customer service from us. Contact us now.
Paneer cubes marinated in tandoori spices and grilled in Tandoor
Paneer cubes marinated in yogurt and spices and grilled in Tandoor
Tortilla chips topped with onions, tomatoes peppers and spices
Boneless chicken cooked with onions, tomatoes, and peppers in tangy sauce
Tomato and cream sauce with fenugreek and spices
Slow simmered curry and vinegar with potatoes and cilantro
Slowly simmered coconut milk with spices and fenugreek topped with grated coconut
Assorted vegetables cooked to perfection in a ginger and garlic sauce. Enjoy with any meat or seafood.
Our spacious private party room seats up to 40 people.
Chicken marinated in yogurt and six pepper spice, and grilled in Tandoor
Chicken marinated in Tandoori spices and grilled in Tandoor
Yellow Lentil or Black Lentil
Yellow or black lentils cooked with herbs and mild Indian spices
Shorba (highly recommended)
Fresh basmati rice boiled with boneless chicken, fresh baby spinach, fenugreek, and spices.
Choose a sauce and meat from the selections below to create the perfect entrée
Add Paneer (cheese) to any entrée $2
Delicately cooked spinach and broccoli in a buttery garlic sauce with light cream and spices
Cream based sauce with cashews, almond and raisins
Onion and ginger garlic sauce with tomatoes, cilantro spices
Peppers, onions and hot peppers with soy and teriyaki sauce, topped with green onions
Art of cooking in a wok with green peppers, tomatoes, onions seeds, and spices
Onion and ginger garlic sauce with fresh tomatoes, cilantro, spices, mango chutney, and mango slices
16 oz. hand cut, marinated rib eye grilled to perfection in our clay oven, served with steamed vegetables
18% Gratuity will be added on all parties of 6 or more
Add Paneer (cheese) to any entrée.
Aloo Mattar or Mattar Paneer
Fresh green peas, potatoes or paneer cooked in ginger garlic sauce and spices.
Homemade cheese cooked with tomato and cream
sauce with fenugreek and spices ~ Highly recommended!
Potatoes, spinach or cauliflower delicately cooked
with cream, onions, tomatoes and spices.
Tender chunks of boiled potatoes or fresh mushrooms
cooked with cumin seeds and tomatoes.
Tender boiled potatoes & paneer cooked with cumin seed, onions and fenugreek leaves.
Saag Paneer or Channa Saag
Deliciously cooked spinach with or without homemade
Indian cheese cubes or garbanzo beans cooked in mild
spices and herbs.
Shahi Paneer or Malai Kofta
Fresh homemade cheese or vegetable dumplings cooked in herbs and spices with a touch of light cream sauce.
Chili Paneer (Recommended)
Tender chunks of home made cheese cooked with bell peppers, onions, and fresh hot peppers in soy sauce.
Seasonal vegetables cooked in a light cream sauce and special blend of spices, sprinkled with nuts.
Homemade cheese cubes sautéed in a wok with onions, peppers, tomatoes, ginger, garlic and herbs.
Daal Makhani or Tarka Daal
Slowly simmered black or yellow lentils sautéed in butter with fresh garlic, ginger and tomatoes.
Eggplant specially cooked over open flame, mashed and then sautéed with onions, garlic, ginger and fresh peas with special spices.
Channa Masala or Paneer Masala
Whole chickpeas or Fresh Paneer cooked with onions,
tomatoes, and spices.
Garden fresh mixed vegetables cooked in a tangy, hot curry sauce.
Please ask your server for the Desserts selection
Indian Spice Train reserves the right to serve.
Indian Spice Train reserves the right to refuse any alcoholic drinks to any person who appears intoxicated.
We will not be responsible for any liability claim due to the negligence of people under the influence of alcohol.