Serving West Chester, OH area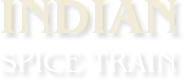 7165 Liberty Center Drive
West Chester, OH 45069

My friends and I were initially going to eat at another restaurant but the wait was ridiculously long. We decided to yelp another place to go for dinner and stumbled across a newly opened place called Indian Spice Train, it sounded different so we thought let's give it a shot. Yelp did not fail us and the food here was delicious.
The servers were very friendly and helpful when we had questions about certain dishes. We tasted few bottles of wine and the recommendation was superb with the food, I'd definitely recommend this place if you're in the mood for some good Indian food and ambiance.This is perhaps one of the classier indian restaurants, great locations and they have made an effort to spruce up the interiors.
Awesome customer service and quality of food!!
Let us make your evening special. Get in touch with us today.

This place is brand new and my husband and I are so glad we found it! The food is delicious. We had the Chicken Tikka Masala and the Shrimp Curry. Also their homemade pistachio ice cream. The service was great and the chef came out to ask if we enjoyed our meal. I'm so glad they have opened in Liberty Township.
GREAT food, GREAT service. Wonderful atmosphere. Highly recommended. Should have a Michelin star!
We were in Cincinnati for a business trip and happen to dine at the Indian Spice Train. Everything they do here is a grand show! Loved it! We ordered a bottle of wine and our server did a great job selecting the right wine to go with our food.
To start with we had Chicken Afghani and Paneer Tikka which was absolutely tender, delicious with the right amount of spices.
For the main course we had Chicken Tikka Masala, which is a very common Indian dish thus hard to perfect. I won't be lying if I say this was one of the best Chicken Tikka I ever had. Tasted like heaven with soft buttery naans! Don't miss having Saag Paneer if you happen to dine here. Absolutely delicious! reminds me of my mom's cooking except it's better. My son had Lamb Chops, usually he's very fussy but I was surprised he didn't look up till he finished his plate. Overall I have to say that the food just melts in your mouth. A perfect 10.
They offer to serve you the entrees, as in spoon a portion for each person and leave the remainder on the table. Plates are cleared promptly. Decor is very very nice. Since they just recently opened up, the owner Mike showed us around. They have a big party area and a gorgeous bar stocked with the finest Scotch and Whiskey which btw my husband loved.
This is the best service I have every received at an Indian restaurant or in general. I was impressed the whole time and felt like a queen. Thank you guys!
Choo Choo to upscale ambiance, and an ultra professional waiter, made our evening special !! We will be returning.
Very nice experience. Family business that wants you to enjoy your visit. New to Indian cuisine? They will help you find an entree or appetizer to enjoy. Will be back to eat in as well as carry out. Worth trying it!