Serving West Chester, OH area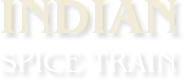 7165 Liberty Center Drive
West Chester, OH 45069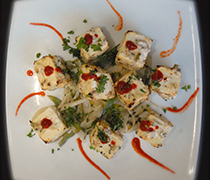 Tasty and Affordable Dinner Options
If you're in the mood for some great Indian food and ambience, you cannot go wrong with Indian Spice Train of West Chester, OH. Our friendly servers will take care of all your needs. Expect nothing less than amazing customer service from us. Contact us now.
Wine by the Glass - White

Apples, a touch of lemon & a hint of baking bread
Our spacious private party room seats up to 40 people.
Indian Spice Train reserves the right to serve.
Indian Spice Train reserves the right to refuse any alcoholic drinks to any person who appears intoxicated.
We will not be responsible for any liability claim due to the negligence of people under the influence of alcohol.

Brisk acidity & good minerality w/notes of pineapple & apricot
Fruity aromas of apple & peach, Clean & elegant
Crisp & refreshing, Tropical fruit, lemon zest & fresh cut grass
Apples, a touch of lemon & a hint of baking bread
Bright notes of ripe cherry & raspberry, w/a delicate hint of spice.
Fresh peach fruit aroma w/ intense fruit. Finishes clean & fresh
Delicious aromas of pink grapefruit, mandarin, cotton candy & toffee apples.

Light, fresh & pretty raspberry fruit
Plum & cherry fill out this full bodied wine
Full, Fleshy & jammy in the mouth w/ loads of ripe red & black fruits
Dark berry & spicy notes w/ flavors of ripe plum & blackberry
Full-bodied & complex, displaying classic Cabernet structure & finesse
Malbec, Syrah & Bonarda make this blend, Aromas of red cherries & raspberries are infused w/ mucha & spice.
Wine by the Bottle - White

Attractive aromas of citrus fruits, peach & honeydew melon
Delicately woven bouquet of apples, nectarine & acacia blossoms.
Detailed aromas & flavors of citrus, anise, dill & earth
Flavors of candied lemon peel, green apple, crystallized honey & biscuit.

Bunches of fresh Queen Anne cherries are delivered on a conveyor of lively acidity.
Dense, savory fruit. Dark cherry, bluberry, cocoa & spice.
Full-bodied, concentrated & layered, w/ impressive black raspberry, plum, licorice, wild herbs & spring flower-like aromas & flavors.

Vodka or Gin shaken w/ olive juice. Garnished w/ blue cheese or olives
Whiskey or Bourbon shaken w/ bitters or sweet Vermouth, Garnished w/ a cherry.
Mango Vodka, & mango jice shaken.
Bourbon simple syrup, crushed cherries & orange. Served on the rocks.

Balvenie Single Barrel 15yr